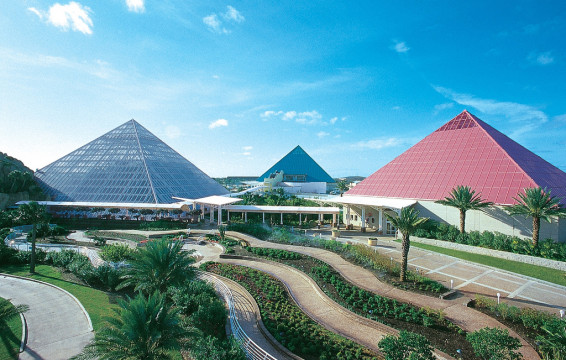 Moody Gardens – Galveston
Project Description
Contractor: Gilbane Building Company
Architect: Morris Architects
Engineer: CHP & Associates
Moody Gardens is one of the premier travel destinations in Galveston, featuring three spectacular, giant glass pyramids, and a luxurious hotel and conference center.
Surrounded by lush tropical gardens, white sand beaches and clear blue lagoons, Moody Gardens is a spectacular sight to behold, not to mention a very interesting and extremely fun place to visit.
The centerpiece at Moody's is the Rainforest Pyramid, this spectacular 10-story, 40,000 square-foot glass pyramid houses a tropical rainforest, which includes waterfalls, cliffs, caverns, wetlands, forests and an amazing variety of wildlife.
The Palm Beach area offers 3 acres of freshwater lagoons and white sand beaches adorned with palm trees, spas and children's play areas.
Hidden behind the massive pyramid is an oasis of clear cool water and dancing water fountains, a great place to sit back, relax and enjoy the view. Listen to the sounds of laughter, as the kids play in the white sand and the cool waters of  Moody's Palm Beach oasis.
This is also where  the Colonial Paddleboat is located, a modern day triple-deck paddle wheeler. This exquisite boat recaptures the romance and culture of 19th Century river steamboats.