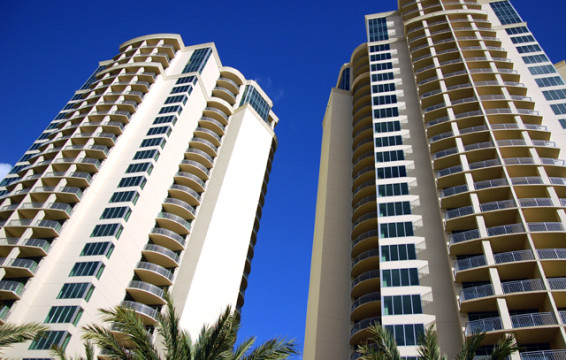 Palisade Palms Hotels – Galveston
Project Description
Contractor: Brasfield & Gorrie Construction
Engineer: DBR Engineering
Architect: Kirksey Architecture
The towers sit atop three levels of elevated parking, and are connected by a podium lobby that opens up onto the pool deck. The unique, radial design provides for 288 spacious suites, ranging from 1,000 to 3,000 square feet. The original floor plans, created by an internationally renowned design team, were designed for waterside living, with expansive terraces, outdoor summer kitchen options, and large windows offering exceptional views of the Gulf.
The façade boasts floor to ceiling tinted glazing with a Limestone colored concrete podium, terrace enclosures and cornice elements. The building is set in a classic architectural sculptured form solid at the base anchoring it to the ground, the mid-rise element reaches to the sky and an elegant slender top, caps the building in a modern skyline landmark feature.
Architecturally, the buildings of Palisade Palms incorporate the modern aspects of large expanses of glass into a classic composition of architectural pilasters, columns and cornices. The result provides a high textured exterior, starting from a strong base, then rising verticals of glass panels and terraces, terminating above large cornices with penthouses offering large terraces which step back to a background of glass. Each building is accentuated at the top with a series of decorative forms which complement the overall design as well as identify the unique project that is Palisade Palms as a landmark site destination.